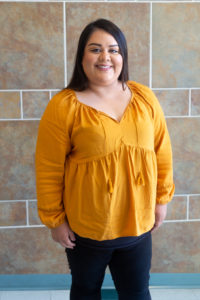 Dinora believes that unlocking the power of people can and will be the liberation of all people. She joined SDOP in 2014 as an organizer working five churches across San Diego county. During that time, Dinora led SDOP's voter engagement work and helped launch the San Diego Rapid Response Network in 2017 to protect undocumented immigrants from raids by Immigration and Customs Enforcement and Customs and U.S. Border Protection. Reyna is currently a Steering Committee member of the Rapid Response Network.
She has prior experience with advocacy and nonprofit training organizations in San Diego and the Bay Area, and holds a masters' in public affairs and applied politics from the University of San Francisco.
Reyna led a volunteer effort to help pass The Safe Schools and Neighborhoods Act, which reduced poverty-related felonies to misdemeanors. For that campaign based in south San Diego, SDOP leaders knocked on more than 20,000 doors. In 2017, Reyna led 300 faith leaders to call for the effective implementation of Senate Bill 54 (the California Values Act), limiting local and state law enforcement from acting as deportation agents in San Diego County.